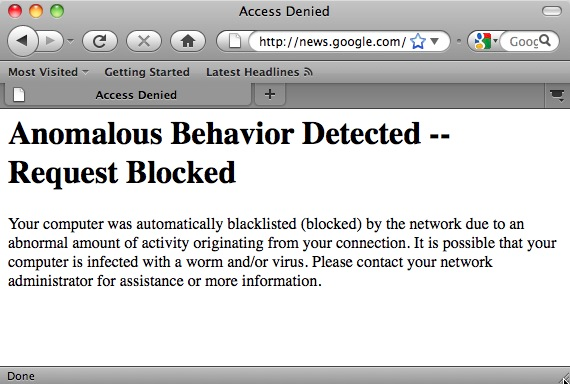 This is too long to tweet…
At Hartsfield-Jackson Airport in Atlanta, Boingo contracts with the airport for Wi-Fi carriage. That means they don't control their own infrastructure.
I run JungleDisk on my Mac, which continually backs up selected directories to Amazon S3. I highly recommend their service. But, if it detects an Internet connection, it will silently start chewing up bandwidth to back up the files that have recently changed. So I connected successfully using my Boingo password, started to check my mail, got a few messages, then BOOM. Blacklisted.
ATL-WIFI has a policy that if you exceed secret bandwidth caps or exceed a secret number of TCP connections in a certain period, they declare you to be infected with malware, and they shut you down cold. No suggestions for remedy, no recourse, just "contact your administrator." The only person in authority near me is the bartender in the Concourse B Crown Room, and she's not exactly a networking ninja.
You can see the total and complete error message at the top of this post. There's not even a freaking phone number to call!
Luckily, I have my iPhone, so I found Boingo's phone number that way. Called them, spoke to a friendly but clueless tech support agent, waited on hold for twenty minutes waiting for Tier 2 support, who finally gave a phone number to call in Atlanta. Called that number, it was wrong… but they, at least, knew the right number.
Called there, got a very friendly tech named Marcus who cleared me off the blacklist in thirty seconds.
Net net, this took twenty minutes of my time, occupied four call-center agents, and certainly blew whatever profit margin Boingo thought they were going to make on me this month. (And toss into that, the first Boingo agent admitted that they get "many calls a day" from people having this exact same problem in ATL, and you wonder why they don't cut a better deal or build their own infrastructure).
What's a better solution to this problem? How about a friendlier error message? Explain that innocent programs like iTunes or even Web sites like YouTube can trigger automatic protections. Suggest avoiding those, then give the customer a button to clear the blacklist. Put a CAPTCHA — or Pramana software — in there to thwart bots. Voilà! I go from twenty minutes of frustration to twenty seconds of "Yeah, that makes sense."
And, oh yeah, put a phone number on there to contact someone if the button doesn't work.
When AT&T makes tethering on my iPhone legal, I will take great pleasure in cancelling the $10/month I spend for Boingo. Until then: the secret phone number of Hartsfield-Jackson ATL-WIFI tech support is (877) 452-9434. Ask for Marcus.