Last month, I was fortunate enough to be invited to a private dinner with senior executives of a number of leading research universities who were visiting campus. The dinner speaker was Tom Noonan — a Georgia Tech classmate of mine (1983) who has succeeded in multiple careers: as a software executive, then serial entrepreneur, angel investor, venture capitalist, and is now General Manager of EnergyWise Solutions at Cisco. And, although the audience was limited, I thought his message needed wider distribution. With Tom's permission, I'm reproducing his remarks here as my monthly newsletter column.
---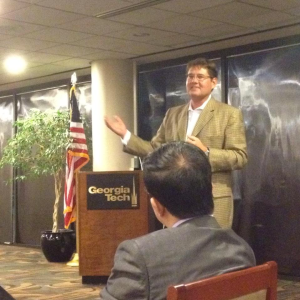 Thank you for that generous introduction. It is always fun to be back at GT and I am honored to be with you this evening at the inaugural Global Tech Presidents Forum. I cannot think of a more important discussion for university presidents than strategies for innovation & entrepreneurship ecosystems.
Before I begin, I must tell you that there were no instructions for this speech tonight, so I asked President Peterson when I arrived how long I should speak for this evening. He said; "Speak for as long as you like; but we're going home at 9:30 PM!" In that spirit, I'll keep my remarks brief.
Why is this topic of innovation and entrepreneurship in higher education at the top of every national agenda? You don't have to study too much data to conclude that entrepreneurship is the engine fuelling innovation, employment generation and economic growth around the world.
So, entrepreneurship and education need to be interconnected if we are to develop the human capital required for building the societies of the future. Investing in entrepreneurship education and ecosystems in order to nurture talent and develop the next wave of leaders and innovators will not only create jobs and value for society, but also empower others to create a better future.
Entrepreneurship has certainly not always been the glamour industry it is today. No one in my generation was particularly interested in working long hours for no salary. I frequently remind aspiring entrepreneurs who think that startups are the easy way to make a fortune of the entrepreneur's motto:
"I started out with nothing and still have most of it left."
The ugly truth about this glamour industry, backed by overwhelming data, is that the vast majority of entrepreneurial ventures fail. In fact, at this point in my life, I don't think there are very many things left for me to learn the hard way. But tonight, I want to take direct contradiction to that motto and share some stories about my life as an entrepreneur and why it has been so fulfilling.
Entrepreneurs are wired differently; why else would we leave the security of a good paying job to take on insane amounts of risk, ridiculously low chances of success and zero work-life balance? A startup is an irrational passion. It is not a job or a career choice. Normal people have jobs. Entrepreneurship is a calling, for most of us it's a virus that's gotten into our head. Sometimes it pays off, but most times it doesn't.
But the debate rages, is entrepreneurialism more art than science or vice versa? Can universities actually accelerate the rate of innovation by teaching the lessons of innovation and playing a role in the development of entrepreneurial ecosystems?
Engaging entrepreneurs in this debate should provide some insight, and career hindsight tells me that I have been an entrepreneur for most of my life. At eight years old, I delivered the local newspaper on my bicycle before school and on weekends. At twelve years old, I landed my first job for $1.60 an hour at the local country club. But it was not until I was a student at GT that I hit the motherlode of entrepreneurial pay-dirt by converting old Coca-Cola machines into beer machines and placing them in the fraternity houses on campus. After more than a few libations one night, I awoke in a cold sweat with a brilliant idea—move the supply of beer much closer to the demand… I think I was the only Georgia Tech student that paid my tuition with large bags of coins!
I've spent all of my adult life working for or building technology companies. While in graduate school at Harvard, I took two classes that had a profound impact on me, "New Venture Creation" and "Managing the Ongoing Venture" which motivated me to start two technology companies while I was in school. Neither of them were big hits, but the experience captivated me. In 1994, I co-founded Internet Security Systems with a brilliant Georgia Tech student, Chris Klaus, which grew to be one of the largest information security companies in the world, publicly traded on both the NASDAQ and the Tokyo Stock Exchange, with operations in over forty countries around the world.
ISS was a great success for Atlanta, for our employees and for the advancement of the security industry. In 2006, we sold ISS to IBM for over $1.5 billion dollars. While history recognizes ISS as a great success, it rarely remembers how many times we failed, or how close we were to shutting the doors. ISS ran out of money long before we had paying customers. I had invested all of my savings and was unable to raise investment capital. Being broke, with a wife and three kids who depended on me, and being five months behind on my home mortgage payments led me to rock bottom. With failure looming, I began applying for Visa cards and funded the company with cash advances, ultimately growing to 37 cards fully at their limit, before we shipped our first product and earned our first substantial order. To this day, I am afraid to ever apply for a Visa again!
I left IBM and co-founded Endgame in 2008, a thriving information security company currently headquartered in Washington DC where I serve on the board of directors. In 2010, I co-founded JouleX, an innovative energy efficiency management company that pioneered the use of IP protocols to control the energy consumption of connected devices; JouleX was acquired by Cisco last year for over $107M dollars. I am currently the General Manager of the Cisco EnergyWise business and an active venture capitalist through TechOperators, where I have led the funding and growth of over 25 early stage ventures.
I was thinking as I prepared for this discussion how different the world was back in the mid 1980s when I graduated from GT and how innovation and rapid advances in technology have forged indelible changes in society during that period. Where would we be without entrepreneurs and innovators? In the 1980s, telephones were stuck to walls, facts were found in books in the library and visiting a record store was the only way to buy the latest music. Retail shopping occurred during store hours and in those days, our mail still had stamps and our cameras still had film.
Societal changes have been equally as dramatic. In the mid 1980s, the world was a very different place. World communism was on the move and Eastern Europe and the Baltics were locked behind the Iron Curtain. All across the globe — the lights of religious freedom and individual rights were going out, and more frightening, the specter of nuclear destruction loomed over our planet. But after my graduation from Georgia Tech, truly amazing things happened that created unprecedented opportunities…
Catholic nuns stood in front of tanks in the Philippines bringing down the Marcos government.
The Iron Curtain was smashed — not by tanks of war, but by the hands of those who built it and those who were oppressed by it.
The Cold War ended — not in a nuclear inferno, but in a blaze of candles in the churches of Eastern Europe, in the singing of hymns and the opening of long-closed synagogues.
So, my first story for you is how innovation is changing the world we live in. Today, technological innovation makes the world highly interconnected and this interconnection will forever bring both challenges and opportunities to our doorsteps and to every corner of the world. In his best selling book, The World is Flat, Thomas Friedman points to the collapse of the Berlin Wall after my graduation as the beginning of this new age. Globalization has leveled the competitive playing fields between advanced industrial and emerging market countries. This global innovation has resulted in sustained economic growth and fueled job creation.
The world that we now live in has become increasingly flat. At ISS, my 13th employee was our VP of Europe, Middle East and Africa and my 19th employee was our VP of Asia Pacific. By the time the company was five years old, we were operating with almost 2500 employees in 22 countries, with over 5000 customers, and we had development labs in Atlanta, Mountain View, Sydney, Singapore, Cairo, England, and Japan. Building successful companies in the 21st century, especially innovative technology companies, requires that you embrace this from the start.
My next story is about dealing with change and taking risks because innovation always brings fierce detraction from the status quo. Entrepreneurs inherently deal with risk and the unknown. Experimentation and failure are just part of the job. Rapidly accelerating technology sets the pace of this societal change and schools and universities play a vital role in preparing the next generation for what is sure to be mind-boggling change.
The world is undergoing a continuously accelerating innovation revolution that poses an extraordinary set of opportunities and challenges: challenges for governance, challenges for national security, challenges for our economy, challenges for our society and civic culture, and challenges for our families, our children, our values, our ethics, and our spiritual beliefs.
In fact, we are entering a period when the collective challenges in our world will be the largest that they have been in the history of mankind — largely due to scientific advancement and innovation driven by new knowledge. We are faced with a series of simultaneous challenges from so many different directions that the cumulative effect is daunting.
Let me just give you a brief survey of what I am describing. First, all of us are going to live through the largest wave of scientific knowledge that the world has ever seen. In the next 25 years, Scientists predict that we will discover 5 to 10 times more new science, than we discovered in the most recent preceding 25 years.
What does this mean on a practical level? If it's five times as much new knowledge in the next 25 years, comparing today to the year 2039 would be as though we were all back in the 1880s trying to imagine today. Now 1880 is pre-electric light, pre-automobile, pre-long distance telephone, pre-radio, pre-television, pre-motion picture, pre-airplane, pre-air-conditioning, pre-iphone, pre-Internet… and by just a few years, it is even pre-Georgia Tech! (1885).
But if we discover 10 times as much new knowledge in the next 25 years, comparing today to the year 2039 would be like we're all Sir Isaac Newton in the late 1600s trying to discover calculus. I mean, you couldn't even start the conversation! How would you begin to explain the world we now live in?
There is no doubt that our technology is soaring, but what does that tell us, what lies ahead for us, our children and grandchildren?
For all of us, it is going to mean a constant process of change, and a constant process of rethinking things, and it means we almost certainly have to fundamentally overhaul our thinking just to be capable of operating in this modern world. It means our schools and institutions of higher learning must embrace innovation and entrepreneurialism as a science and not some black art determined solely by luck or unique individualism. It means that universities must build ecosystems to nurture, promote, encourage and assure that this new science is translated into innovation that makes its way to the marketplace for the public good. Rapidly changing environments promote innovation and create opportunity for entrepreneurial endeavors.
Teaching entrepreneurship in the university will pay dividends. It will give more students the confidence to start their own businesses. Building university ecosystems to promote and accommodate entrepreneurial ventures enables more efficient technology transfer, funding, and new venture creation. But there is a stark difference between teaching and doing. Entrepreneurship taught me things about myself that I would have never been able to learn in the classroom.
While entrepreneurship brought me success beyond my wildest imagination, it also gave me the opportunity to fail and failure developed an inner security and self-confidence that I had never really experienced at any other time in my life. Society glorifies success and vilifies failure. But failure taught me things about myself that I could have learned in no other way. There is more to learn from mistakes than from successes. Understanding what went wrong, where instincts failed, or what internal and external factors were responsible for taking an enterprise off course are all vital lessons in business. Understanding the failures of the past is key to having success in the future. The knowledge that you have emerged wiser and stronger from setbacks means that you are, ever after, secure in your ability to survive.
Entrepreneurship has given me the ability to develop my own compass, time and time again, to plan and chase my own dreams, to take risks because as entrepreneurs we actually believe that the world needs us to change it. We have a ferocious curiosity, we see connections others can't, seize opportunities others won't, and forge new directions that others haven't. We operate in a world of big dreams, but there is no way to short circuit the path to success; it starts with unbridled passion and takes hard work, tenacity and patience and more than a modicum of luck.
Entrepreneurship provided me an excellent opportunity to experience the world in a very unique way. I have had the opportunity to hire, grow and develop thousands of bright people from all corners of the world. At ISS alone, we created over 8000 high paying jobs in period of 10 years, jobs that changed peoples' lives. Through this experience, I have developed lifelong relationships and learned the true warmth and beauty of the world.
We also drive fast and take chances. In fact, very little of what I studied methodically in my undergraduate mechanical engineering classes ever really directly prepared me for the roller coaster ride that is entrepreneurship. So your challenge as leaders of the greatest technological universities in the world is formidable. How do you transform the educational system and build the ecosystems to embrace this reality? How do you produce future leaders with the skills and attitudes to be entrepreneurial in their professional lives, whether by creating their own companies or innovating in larger organizations.
While everyone is not cut out to be an entrepreneur, everyone is capable of innovation, and innovation is the source of competitive advantage and economic development. I have worked closely with Georgia Tech over the last twenty years as our university has laid the foundation for building an entrepreneurial ecosystem here in the southeast. Georgia Tech has done a terrific job:
In building programs for student entrepreneurship (Flashpoint, ATDC, InVenture, the Startup Competition, and more);
In building programs for faculty entrepreneurship (VentureLab);
In developing clear policies for intellectual property and technology transfer (GTRC and VentureLab);
In engaging and leveraging industry collaboration (the Contracting Continuum); and
Engaging economic development authorities (everything that Stephen does at EI2).
Your participation in this forum tells me that you refuse to be spectators on this important issue. There is perhaps no more important battle to wage in higher education, but just like entrepreneurs, you will meet with plenty of resistance as you usher in a new order of things. Stick with the fight, anything less may challenge the relevancy of 21st century universities.
Perhaps Steve Jobs summed it up best in his 2005 Stanford Commencement address:
"Your time is limited, so don't waste it living someone else's dream. Don't be trapped by dogma – which is living with the results of other people's thinking. Don't let the noise of other's opinions drown out your own inner voice. And most important, have the courage to follow your heart and intuition. They somehow already know what you truly want to become. Everything else is secondary."
Steve Jobs' message was not just for the students, in fact many believe that he was directing his advice equally to the faculty and administration. "What choice will you make when you leave here this week? Will you accelerate the focus and investment in innovation entrepreneurship and the vital ecosystems of entrepreneurship at your institutions, or will you go about your normal routine?"
The choice is yours, but remember, like your fellow entrepreneurs, the stakes are high, the outcome uncertain, and the detraction will be fierce, but success changes the world!
Good luck. Thank you, good night and God bless.