A few weeks ago, I watched Georgia Tech undergraduates present their work at Startup Summer Demo Day. Something that started as an experiment less than two years ago has turned into a monster!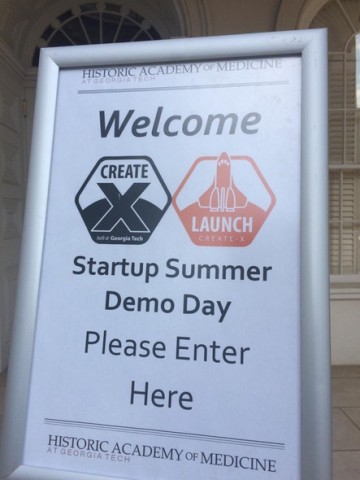 Photo courtesy of David Payne.
Georgia Tech Startup Summer is a faculty-led, student-focused, 12-week intensive pilot program for student teams to launch startups based on their ideas, inventions, and prototypes. At Demo Day, ten student startups assembled to demo the products and services that they are launching in markets ranging from agriculture to automotive technology to performance art to finance. During Startup Summer, team receive $20,000 in funding from an external investment fund that was seeded by a generous gift from Chris Klaus.
Demo Day is the final step in the "Learn – Make – Launch" curriculum spearheaded by the College of Engineering, and now being adopted by the other colleges across campus. It's hard to believe that this is only the event's second year! The first Startup Summer Demo Day was in August 2014, and it fit into the TSRB auditorium (100 seats). This one filled the Academy of Medicine auditorium (230 seats), and latecomers had to watch from the overflow room across the lobby.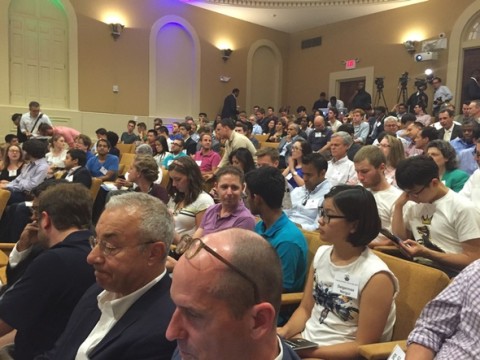 I've been involved with technology startups since (gulp!) 1987. I've been to more venture capital conferences than I can count. I helped start the Georgia Tech Business Plan competition (now relaunched as the Georgia Tech Startup Competition). I'm on the board of TI:GER. I've seen a lot of pitches. And I was impressed.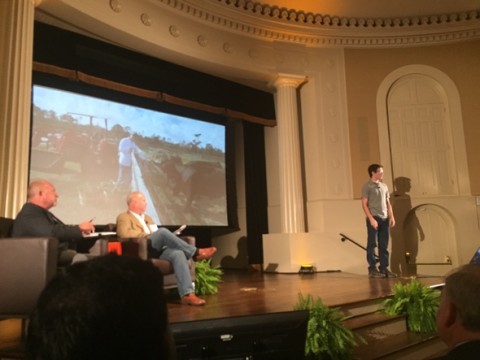 First, there was the poise and comfort level of the presenters on stage. Not everyone can be Nick Selby (of "We Can Do That!" immortality)… although Nick was there, promoting a wind-power concept. But all the students appeared comfortable on stage, confident in their material, and quick to answer pointed questions from the judges (Steve Chaddick and Bill Jones). This doesn't happen without a lot of effort by the students and a lot of coaching from the Startup Summer faculty.
Second, the pitches uniformly focused on the customer and the customer's needs, not on the technology. There are much older founders with much more funding who haven't figured this out yet. (I know; I was one once, and I funded quite a few more during my venture capital career.) These students have figured it out in their early twenties.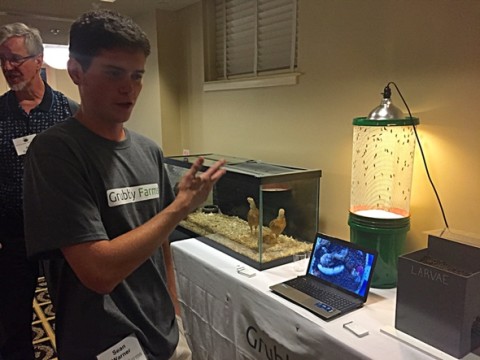 Third, the technologies themselves. I get so bored going to startup events where it seems every presentation is a cool new iPhone app. Yawn. This Demo Day was pretty much the opposite extreme. In a little over an hour, we saw ten startups. In alphabetical order:
Whew! That's variety! And that's a great example of the sort of technology diversity represented by Georgia Tech.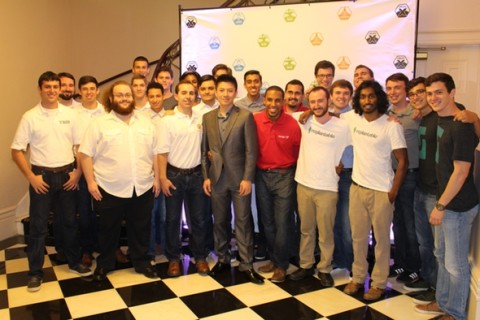 Photo courtesy of Sanjay Parekh.
Speaking of diversity: the teams were bright, energetic, enthusiastic — and overwhelmingly male. With a freshman class that's over 40% female, there's clearly some room for improvement here. I suspect that we'll see a big change over the next few years.
Drownproofing 2.0
Y'all have heard me talking for several years about "Startups for Grownups." And I do believe there is a real advantage to having some real-world experience before diving into the unknown of founding a company. But at the same time, I love Georgia Tech's new focus on undergraduate entrepreneurship. Because we're not just teaching these students how to be entrepreneurs. We're teaching entrepreneurial confidence. That's completely consistent with the sort of graduates that Georgia Tech is known for. And, indeed, it's completely consistent with my "Drownproofing 2.0" column from 2012.
Some of these startups will launch and be successful. Some will launch and fail. And some will fail to launch, as the students go onto other things. But all of these students will bring entrepreneurial confidence to whatever career they choose to pursue — from taking a job in industry, to graduate school, or law, or medicine… or joining or founding a startup.
We started this process with 30 students in Startup Lab eighteen months ago. This year, we taught 120. Next year, hundreds. Soon… thousands?
It's an exciting time to be part of Georgia Tech!