Twenty years ago today, I left a fast track position in corporate America and moved back to my hometown of Atlanta to help launch an early-stage venture capital firm. Ever since, my passion and my profession and my personal wealth have all been tied to the local technology community.
It's been quite a ride.
A few people have been on this ride longer than I have — John Yates and Charlie Paparelli and Leland Strange are three that I still work with regularly. But, pretty often nowadays, I find myself to be the oldest person in the room.
The more things change, the more they stay the same.
We still have Georgia Tech, one of the most extraordinary generators of technology talent in the world, plus Emory, the Atlanta University Center, and a total of a quarter of a million college students. We're still a desirable destination for the youthful Creative Class. We still have a cluster of Fortune 500 headquarters and branch offices that — although not technology companies per se, are voracious consumers of technology. We still have Hartsfield-Jackson airport. We still have an enviable quality of life. And while we're best known as a B2B software town, we have ambitious entrepreneurs working on everything from aerospace to zebrafish.
And we still don't have enough venture capital.
The Capital Conundrum
Want to see a scary picture? Here's the ratio of venture capital investments in the Southeast compared to the national total for every quarter since 1995: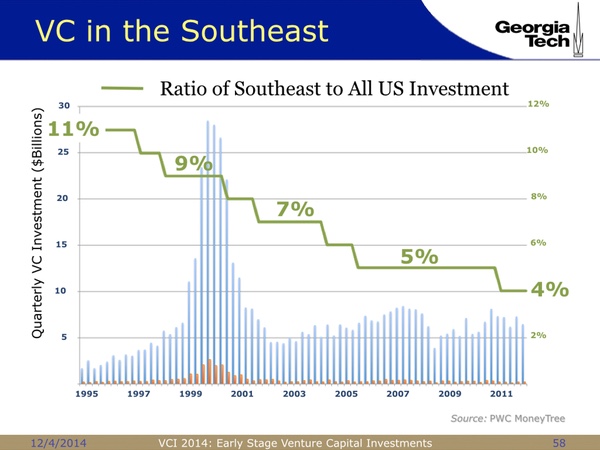 (I drew this graph in 2012, but the trend has continued its monotonic decline. In the first three quarters of 2014, the Southeast was down to 3.3% of national venture capital investment.)
So after twenty years of effort by thousands of smart people in hundreds of startups — and over $60 billion of wealth creation — the VC dollars invested in the Southeast are just about the same as they were in 1995. (Adjusting for inflation, we're actually down about 20%!) While, over the same period, the national venture capital market increased five-fold.
What's going on here?
I don't think I know.
Sure, I'd like a stronger, more varied local venture capital community. I'd like for our entrepreneurs to have more doors to knock on without having to catch an airplane. But in an Atlanta where Yik Yak can attract $60 million in Series B funding led by Sequoia Capital, that argument is getting a bit tired.
Maybe we're looking at this all wrong.
After swimming in the venture capital river since my first startup in 1988 — I know that selling equity to VCs is expensive. It's a great resource for some startups, but it's not the only resource. When possible, it's a lot better to finance your company through revenue. If you can develop a Minimum Viable Product based on personal savings and maybe a day job, sell that. If you can't, sell consulting and engineering services, while developing your MVP on the side. Steve Jobs sold his VW Microbus to help finance Apple. Basically, sell anything but equity, as long as you can.
Who are you going to sell to? People with money. Unless you're a purely consumer-focused company, that means mature corporations who need to buy what you're selling.
So, yes, I want to see more local VC money. And more local angel money. And more state investment in seed capital. And more investment tax credits. And SBIR matching funds. And the whole panoply of tools that people like me have been talking about for years.
But if I could condense my twenty years of learning about the Atlanta market into one proposal that plays to Atlanta's strengths instead of competing head-to-head with Sand Hill Road — it would be "corporations."
Kasim Reed
Atlanta Mayor Kasim Reed gets it. Take ten minutes and watch this video clip. In particular, listen to this quote:
"We've got to get our Home Depots and our UPSs to treat our technology startups the way that they do in some other parts of the country."
Exactly. I was fortunate enough to participate in Leadership Atlanta last year, and several sessions talked about "The Atlanta Way" of solving problems. Improving the startup community isn't in the same category of challenge as the civil rights movement… but there's something we can learn from that history: Corporate leaders matter.
So Mayor Reed is correct — Atlanta's Fortune 500 companies need to "give startups a shot" by experimenting with their products and services. At ATDC, we're two years into a very successful "Industry Connect" program that provides just that: curated matchmaking between large companies and high potential ATDC technology startups. We leverage the Georgia Tech brand to get audiences with the right decision-makers at the right level to "give the startup a shot." More times than not, we've seen a market trial, or an investment, or potential for an outright acquisition. Visiting companies are uniformly impressed with the depth of experience of the management teams and the fact that ATDC startups are solving real problems.
But we need more.
The Atlanta Way 2.0
Five years ago, I funded a study of startup clusters led Dan Breznitz, then a member of the public policy faculty at Georgia Tech. His results were sobering. Compared to other successful clusters — particularly Silicon Valley — Atlanta startups existed within their own world, with few linkages to the city's corporate power structure. Breznitz and his co-author, Mollie Taylor, stated that
"The Atlanta metro area excels at incubating high tech businesses, but it lacks the cohesive business social structure needed to sustain them, so many of the most promising young companies leave the city."
For a year or two now, I've been talking to people in the community about getting Atlanta's corporate leaders personally engaged in the startup community. And I've concluded that "When you've got them by their wallets, their hearts and minds will follow."
Atlanta's corporate leaders need to become angel investors. Active, involved, engaged angel investors.
Part of the evolution of "The Atlanta Way" is that, once you reach a certain level in the hierarchy of our major corporations, you're expected to invest some of your time and money in charitable endeavors. Other cities, and other countries, don't expect this, but Atlanta does. There's a lot of leeway in what you choose — it could be the symphony, or autism, or a charter school. But being a leader in the Atlanta community means more than going to the right parties and belonging to the right golf clubs. You're supposed to get involved. And if you need to take an afternoon off from your executive duties at Coca-Cola to attend an event at Children's Healthcare of Atlanta… well, Muhtar Kent isn't going to get you in trouble.
What if that same attitude extended to angel investing?
What if every C-level executive in Atlanta were expected to invest some of their personal wealth in a startup company, every year? From their personal checkbook? The same checkbook they use to buy a new car or a new house on Lake Rabun? (First off, if their marriage is like mine, they'd have to get their spouse or partner's approval, which instantly doubles the brainpower committed to the effort.)
Moreover, what if they were expected to attend board meetings? And, more importantly, those informal breakfasts and cups of coffee with the CEO between board meetings? And to engage their experience and their personal networks and — heck, call it "wisdom" — to benefit those companies where they are invested?
If you're a startup, the only thing more powerful than having a Fortune 500 client is having a senior Fortune 500 executive on your board. (And not as a figurehead. Someone who will make phone calls and take meetings and open doors where the entrepreneur only sees brick walls.)
This isn't the sort of social norm that can be enforced with a law. It takes time. And somebody has to be first.
We don't have Robert Woodruff anymore. But we have Craig Menear and David Abney and Muhtar Kent and Richard Anderson and Jim Hannan and Larry Gellerstadt and Jeff Sprecher and Ralph de la Vega and Bill Rogers and Tom Fanning and dozens more.
Who will be the first to tell their C-suite? "I've just invested $50,000 in a small tech startup here in Atlanta. I'm going to mentor their CEO, and get involved in their board, and open doors for their sales force. It's not charity; it's personal asset allocation. If I make enough investments, I'm going to make money. And I expect each of you to do the same."
Multiply that by a dozen executives at a dozen companies, and Atlanta will have an unstoppable advantage in becoming the Florence of the digital age.
And, for the first time in twenty years, we can finally stop having the argument about "Why isn't there more venture capital in Atlanta?"