…the more they stay the same.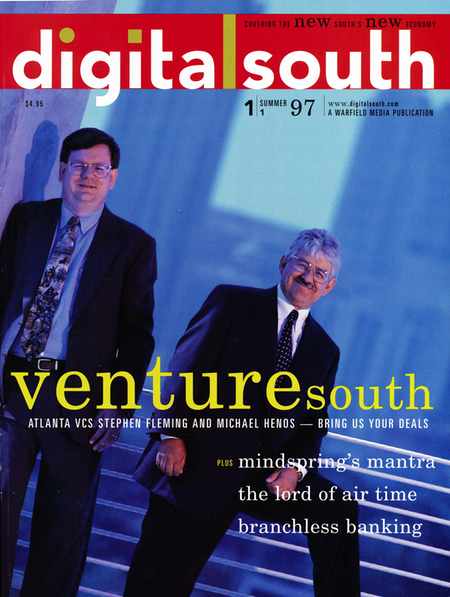 Cissa and I have been doing some housecleaning for the holidays, and I found a copy of the inaugural edition of the now-defunct Digital South magazine, published in early 1997. I scanned about a dozen pages into a PDF (linked to the image above), but read these excerpts:

Nobody is suggesting that this region will replace Silicon Valley, which still gets the lion's share of VC dollars — 25 percent of the approximately $10 billion invested last year, according to the PW survey and Coopers & Lybrand's annual Money Tree Report. Silicon Valley's technology culture and lifestyle — spawned by 40 years of technological innovation and still growing — is unlikely to be duplicated in any other part of this country, despite the hopes of Chamber of Commerce types through the South who, regardless of location, have begun calling their markets "Silicon Beach," "Silicon Bay," or "Silicon anything."

But venture capitalists and others say the South is reaching critical mass. It has taken 20 or more years, but the ingredients needed to seed and start a technology business — money, ideas, infrastructure and management — are increasingly available in this region.
Last year, for example, about 60 percent of all venture investments went to locales outside Silicon Valley and New England, the country's other traditional venture market. And, barring unforeseen circumstances such as a contraction of capital overall, geographical diversity in investing is likely to continue.

"As long as venture capitalists continue to get good overall returns, they will be more willing to invest in non-traditional geographic areas," says Kurt Waiden, national director of the Price Waterhouse survey. "There's every indication that this trend will continue into 1997," says James D. Atwell, director of Cooper's Money Tree Report.
No doubt this new-found interest in the South reflects the fact that record amounts of venture capital are being raised. In short, there's simply more money out there looking for a home.

"Silicon Valley has evolved to the point where there is too much capital chasing too few good deals," says Gene Riechers, a managing director at Friedman, Billings, Ramsey & Co., an Arlington, Va., investment banking firm. "The Southeast has the opposite problem."
The South also has lower business costs, a generally favorable tax and regulatory climate and warm weather, which "will continue to attract people and businesses," the study says.
The quality of business plans coming across the desks of VCs also is improving. That's because the region has acquired a heightened awareness of the need to school younger entrepreneurs in building a good business plan. Also, more educational institutions or entrepreneurial clubs are explaining the nuts and bolts of venture investing and providing entrepreneurs with the opportunity to network with service providers such as lawyers, accountants, investment bankers and others.
When it comes to deciding where to base a start-up, advances in networking and communications technologies — essentially the growth of the Internet — pretty much have leveled the playing field.

In a speech last February to Red Herring's Venture Market South in Atlanta, which drew nearly 500 VCs, bankers and technology executives, Fleming made precisely that point. "As predicted for years in science fiction, the Internet explodes the tyranny of geography. They say that on the Internet, no one knows you're a dog. Well, no one knows you're a Southerner, either!"

All joking aside, Fleming added: "A Web surfer doesn't care where you're located. He just cares that you have a fast server, a high-bandwidth pipe to the Net and a site that's worth his time. Our lonely basement hacker can't compete with Intel on microprocessors … but he can compete against the whole world with a new Java applet."

The VC made one more point worth repeating here. "This is not a zero-sum game. Silicon Valley doesn't need to lose in order for the South to win," Fleming told the gathering. "We believe we have some unique strengths, but our success won't take place in a vacuum. Just as the rising tide floats all boats, we believe that the new digital economy will flourish everywhere — not just in traditional high-tech strongholds."
Wow. Heard any of this recently? With a light copyedit to update some numbers, you could run the same article today, sixteen years later.
There are some great ideas floating around Atlanta on how to improve our entrepreneurial ecosystem. I have some myself. But it's worth paying attention to a little bit of the history.
(And I'm only scratching the surface! Someday, Leland Strange and Bill Goodhew and John Imlay and Ben Dyer and Dennis Hayes need to sit down and write a book on Atlanta's first high-tech ecosystem, which took off like a rocket in the late 1970s and crashed to Earth in the mid-1980s. I want to buy the first copy!)