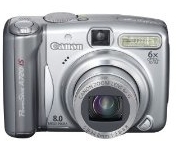 Advice to a friend who is planning a trip to Australia, and wants to know which camera to carry…
 
If you're going to Australia just to take photographs, buy a DSLR and all the lenses/accessories your chiropractor will let you carry.
 
If you're taking your family, buy something like my Canon A720is, and focus on the experience, not the photographs.
 
http://www.academicvc.com/2008/07/travel-lessons-learned.html
 
Professionals are always going to get better photographs than you are. Buy postcards wherever you go if all you want is landscapes and wildlife. But no professional is going to get pictures of your wife and your kids. The less time you spend fiddling with the equipment, the more time you have to get pictures of your kids. And those are the pictures you're going to want to look at over and over again.