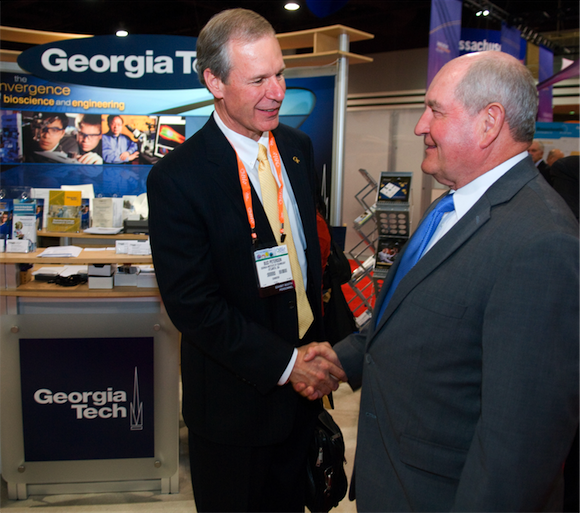 I met with Dene Sheheane, Georgia Tech's director of state government relations, today on some issues regarding EI2 and the state of Georgia… and he volunteered some interesting information about Bud Peterson.
During Dr. Peterson's first 100 days as Georgia Tech's president, he's had a grueling travel schedule across Georgia to meet as many alumni, business leaders, and political leaders as possible. (I know that some of you have been able to attend some of these meetings, and I encourage you to continue whenever possible.) Dene has accompanied him on most of these visits. And he claims that Dr. Peterson never misses an opportunity to plug EI2 and, specifically, our field offices across the state!
He's constantly referring to our impact on the state's economy and likes to specifically call out our employees and business relationships in each city that he visits. This is uniquely powerful positioning for EI2, and everyone in the organization should be proud that we're being so visibly promoted by our president.
We still have a bit of vocabulary training to do with Bud (he likes to refer to us as "E-I-I" instead of the correct "E-I-squared"), but Dene promises he'll get it right soon. In the meantime, take a few moments to pat yourselves on the back. You've earned it.