You know what puzzles me?
I live in the ideal demographic for the Chevy Volt: Midtown Atlanta, very environmentally conscious, lots of people who choose to live close to their jobs (Georgia Tech, Emory, CDC are all represented on my street), and lousy public transport. So a zero-local-emissions car with very limited range would actually fit well into the lives of many people here.
And every time I read about electric cars, it talks about "charging it in your garage overnight." Especially if you want to charge it in less than 10 hours, because you need a special $2000 240 volt charger like this one that's hardwired into your household circuit breaker.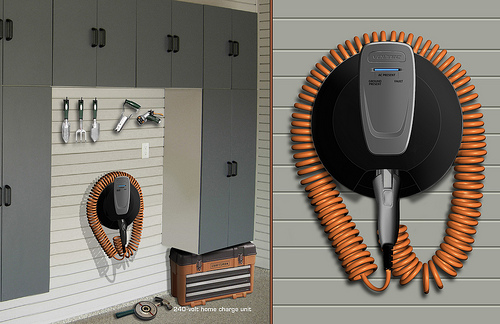 One problem… in high-density neighborhoods like mine, almost no one has a garage. People park on the street, or, if they're lucky, in their driveway. Are you supposed to run a 100-foot extension cord out to the street? Across the sidewalk? In the rain? And what if the only parking spot tonight is across the street?
Or if you live in a highrise… you park in a communal garage. Even assuming you have a reserved parking slot (many don't), how are you supposed to get a charger installed next to your slot with the power billed to your condo upstairs? The building isn't going to let you hook into their electric meter without some sort of payment!
Considerations like this don't bother owners of the Tesla all-electric Roadster, or the Fisker Karma, because if you can afford a $100,000 toy, you probably have a garage. (And at least one other car, for that matter.)
But if the Chevy Volt — and the Nissan Leaf, and others — are supposed to be electric transportation for Everyman (and Everywoman), they have to fit into Everyman's life. And, in dense urban areas, Everyman doesn't have a garage.