There is an old Vulcan proverb: Only Nixon could go to China.
–Spock, Star Trek VI
When I took over EI2 two years ago, one of the first things I did was merge ATDC and VentureLab. It was the right thing to do at the time… but times have changed. Nina Sawczuk has been director of Startup Services for almost a year and has ambitious growth strategies for btoh ATDC and VentureLab… but the strategies are different. It's time for ATDC and VentureLab to be separated again. Let me explain.
Both ATDC and VentureLab deal with encouraging entrepreneurial startups, but their focus is different. ATDC is open to any technology entrepreneur in Georgia, while VentureLab is focused purely on opportunities coming from the Georgia Tech campus. Due to attrition over the years, both staffs had shrunk to the point where I decided the best way to maintain critical mass was to combine them. This has worked, to a point — but attrition has continued (most recently with the departure of Lance Weatherby for a local startup) while the demand for ATDC services has grown tenfold (from 40 to 400 member companies). Simply spreading the remaining staff across a wider and wider range of constitutents isn't going to work any more. So… we have to do something else.
What we're going to do is to learn from Tom Sawyer.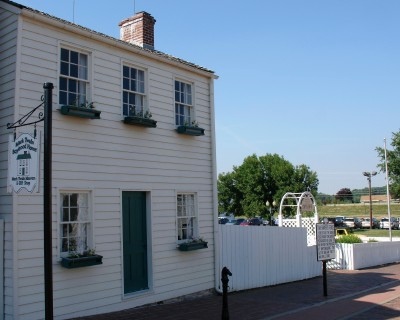 Remember the story of Tom Sawyer's fence? Aunt Polly had ordered Tom to whitewash a fence on a hot Missouri day. Tom had other activities in mind, but a quick slap from Aunt Polly's slipper got him to working… and to thinking. Ben Rogers came by on the way to the swimming hole:
"Say — I'm going in a-swimming, I am. Don't you wish you could? But of course you'd druther work — wouldn't you? Course you would!"

Tom contemplated the boy a bit, and said:

"What do you call work?"

"Why, ain't that work?"

Tom resumed his whitewashing, and answered carelessly:

"Well, maybe it is, and maybe it ain't. All I know, is, it suits Tom Sawyer."

"Oh come, now, you don't mean to let on that you like it?"

The brush continued to move.

"Like it? Well, I don't see why I oughtn't to like it. Does a boy get a chance to whitewash a fence every day?"
You know the rest of the story… soon, Ben trades him an apple to take over the work of painting the fence. When he wore out, "Tom had traded the next chance to Billy Fisher for a kite, in good repair; and when he played out, Johnny Miller bought in for a dead rat and a string to swing it with." (I don't know the market value of a dead rat in Tom's world, but it's apparently more than a kite.)
By the end of the day, Tom hadn't touched the paintbrush since handing it to Ben; he was too busy orchestrating the horde of boys wanting to paint the fence.
He had had a nice, good, idle time all the while — plenty of company — and the fence had three coats of whitewash on it! If he hadn't run out of whitewash he would have bankrupted every boy in the village.
That's our new model for ATDC… except, I hope, without dead rats on strings.
Atlanta's technology startup ecosystem is in a period of vibrant growth. ATDC has played a key role in the center of that ecosystem since 1980, and that's not going to change. What's changing is that now we're counting on that ecosystem to provide resources as well as consume them. We've always had great volunteers at all levels; now we're kicking it up a notch. We're going to expand our dependence on volunteer mentors who will each help one or two companies. We're going to re-establish positions for paid part-time startup catalysts ("entrepreneurs in residence") who'll assist more companies as well as sharing the load for classes, workshops, and other educational services. And based on our 2011 success with sponsorship, we're opening up new opportunities for individual and corporate contributions to help pay the bills.
ATDC will provide more, and more varied, services to Georgia's technology entrepreneurs than ever before. The difference is, most of those services will no longer be delivered by full-time ATDC staff. Mentors will come and go as they find interesting companies to work with. The new catalysts will be hired as part-time temporary employees, with the understanding that they're not on a path to a full-time position… after a year or so, we expect them to either take a company out as CEO or senior manager, or to find something else to do. In the meantime, they can provide current, relevant, and targeted advice to less-experienced entrepreneurs, and in more areas than we can afford to bring onto the payroll.
What about VentureLab? The challenges there are different. VentureLab — including its affiliations with the Georgia Research Alliance, the Georgia Seed Capital Fund, the Georgia Tech Edison Fund, and the new GT:IPS program — offers what I think is the most comprehensive set of support services at any research university in the United States. We've had great successes, and expect more. But these successes take dedicated, focused effort over a period of years. In fact, the VentureLab catalysts typically act as uncompensated company co-founders more than coaches.
I don't think those functions can be handed off to the community, at least not in the early stages of company formation. (Later on, successful VentureLab startups will join ATDC, and share in the same service mix available to outside entrepreneurs.) So VentureLab will continue to have full-time catalysts on the EI2 payroll. They'll continue to focus on those faculty and student inventions that appear to have significant potential to become startup companies. And they'll increasingly align their work with the new trandisciplinary research clusters that Steve Cross and I have discussed at the last few quarterly meetings.
But that leads to an immediate conundrum: Georgia Tech plans to have around twelve of these new clusters, but we only have five catalysts. How do you spread five people across twelve clusters? I can guarantee, the answer isn't "Ask Steve Cross for money to hire seven more people"!
More fence to whitewash!
We're already in discussions with some of the research clusters as well as academic departments and GTRI on how we can borrow some talent into VentureLab. They'll work for us part-time, but with their salaries carried on their home organization's books. We get talented, well-connected individuals to act as a force multiplier for VentureLab. They get great experience in helping to form entrepreneurial startups, overseen by our veteran catalysts. Everyone wins.
There are a lot of operational details to work out, but those are the broad brushstrokes. Nina Sawczuk will keep wearing two hats as EI2's director of Startup Services and general manager of ATDC. She has promoted Keith McGreggor to director, and Roberto Casas to associate director, to run VentureLab as part of Startup Services. And Flashpoint fits in there, too. (I haven't written about Flashpoint yet? Maybe I should do columns more than once a month!)
This is all just Startup Services; there's lots going on in every department. No summer slowdown for EI2!
---
Photo Credit: Sheila Scarborough