Back in June, I blogged about immigration as it affects student entrepreneurs at Georgia Tech. Apparently that qualified me as an expert on immigration policy! Someone at the U.S. Chamber of Commerce noticed what I'd written and invited me to a forum in Washington yesterday on "Immigration and American Competitiveness."
It gave me a chance to meet Michael Bloomberg, and I strongly recommend that you take the time to listen to his keynote, which is archived on C-SPAN here. He made my points far better than I could have!
But I also enjoyed the panel discussion which followed. If you're inclined, you can watch the whole thing here. My bit starts at 43:20, and I chime in again around 1:27:10. Since I had my notes on my iPad, I was able to update them in realtime at the event; that text is below.
(FYI, using Pages on the iPad with 40-point Helvetica makes a great personal teleprompter!)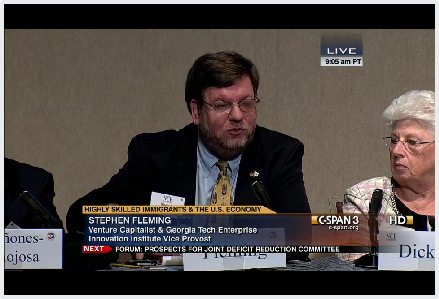 Thanks for inviting me here. I appreciate the opportunity.
I could probably replace my prepared remarks with "What Mike said." His Honor did a great job.
Although I'm not an academic, I think my role today is to discuss immigration from the point of view of a major research university. And I'd like to follow that with some of the issues with current immigration policies that affect what our students can do AFTER graduation.
For those of you who aren't familiar with Georgia Tech, we're the largest engineering school in the United States. But we're not just big; some folks think we're pretty good.
U.S. News ranks us as the 4th best engineering school in the U.S. — when the top three are MIT, Stanford, and Cal Berkeley, #4 isn't a bad place to be.
They rank us as the 7th best public university of all types.
And we're not just good at one thing. They rank twelve types of engineering degrees — electrical, mechanical, civil, etc. We rank in the Top Ten for eleven of them, and we don't offer the twelfth.
We're in Atlanta. As you might expect, since the civil rights era, we have a strong history of graduating minorities. Whether you're measuring Bachelor's, Master's, or Ph.D.'s, we're Top Ten for African-Americans, for Asian-Americans, and for Hispanics, and for minorities overall.
And we have a lot of foreign students.
Right now, about 7% of our undergraduates and 40% of our graduate students are on foreign visas.
Forty percent. As Tom pointed out, the national average for STEM graduate students is actually over 50%. And as Robin pointed out it's north of 60% in computer science.
At Georgia Tech, the bulk of our foreign students come from, unsurprisingly, India, China, and Korea. But, overall, they come from 115 countries. –I don't think I could name 115 countries!– Overall, between graduate and undergraduate, that's 18% of our total enrollment, or about 3800 out of 21,000 students.
It's hard to get into Georgia Tech. We get six applications for every slot in our freshman class, so you know that we're pretty picky about who we let in. The 3800 foreign students on our campus are the best of the best. Smart, hard-working, flexible… you couldn't ask for better students. Or better employees. Or better CITIZENS.
But the United States has put up barriers to letting these students build their careers in America. Just getting their student visas approved — not even talking yet about permanent residency! — is a bureaucratic nightmare. It discourages many of them to just give up, and study in other countries.
It didn't used to be that way. A hundred years ago, the United States had, at best, a second-tier set of colleges and universities. Harvard was pretty good, but things fell off pretty rapidly from there. But, by 1950, we had unquestionably the finest higher education system in the world. We still have it today, although the rest of the world is trying hard to catch up.
What happened? IMMIGRATION. Our university system in this country was BUILT on immigration.
Specifically, Hitler came to power in 1933 and destroyed the German university system, which at that time was the finest in the world. Many of those professors, and even students, escaped to Britain and the United States. That won the war. Imagine the Manhattan Project without Jewish scientists. Imagine if they'd stayed in Germany.
After World War II, Europe was wrecked, and even MORE came to the United States from all over the Continent.
And then from Latin America, and from Asia… We imported the best brains from all over the world into our colleges and universities. And that led to a half-century of unchallenged economic dominance.
A couple of months ago, I was at a Georgia Tech student event, the Convergence Innovation Competition. I was INCREDIBLY impressed by the quality of the student entrepreneurs. They were mostly Master's candidates in Computing or Electrical Engineering. And they were demonstrating apps for iPhones and Androids and even your television that were commercial-grade, or could get there.
I spent about a decade as a venture capitalist, and I was IMPRESSED. This was a class project, but it felt like a venture capital event. I started asking them, "Do you want to start a company around this?" I've still got friends in the venture business, and I think I could get some of these teams funded!
But the answer was usually a smile, and a quiet "No, I can't." So then I figured it out, and I started asking them: "Where are you from?"
Of 28 competitors, 26 were from overseas.
There's no way that these 26 students can graduate from Georgia Tech and take what they've learned here and start companies in the United States.
They want to, but they can't.
If you can only remember one thing I've said this morning, please remember that. We're educating these children, they want to start companies here, and we're telling them to go home.
They want to stay, but they can't.
Removing the caps on H1-Bs wouldn't help them. Our immigration service doesn't recognize self-employment. And the kids couldn't afford the fees, anyhow. So, they can find a big-company employer who is able to invest $20,000 or $30,000 in getting them an H1-B and eventually a green card. Or, they can go home. And, as Elizabeth pointed out, their economies are thriving back home, so it's more than likely that they'll compete with us from there!
Now, entrepreneurship is HARD. Most people who try it, fail. I think the willingness to pack your bags and move to a different country for graduate school is a pretty good filter for whether a young person has what it takes to start a successful company. And the data supports that. Over HALF of the startups in Silicon Valley have a founder from India or China.
And, remember, as the Mayor mentioned, the Kauffman Foundation found that young companies have accounted for essentially ALL the job growth in the United States over the last twenty-five years. But our immigration policy doesn't encourage foreign graduate students to participate in that job creation. Work for a big company, or go home.
Just at Georgia Tech, we've seen the impact of this over and over again. One of our spinout companies, Whisper Communications, was based on work from a graduate student in electrical engineering. He jumped through all the immigration hoops possible, but eventually exhausted his options. He gave up.
He was immediately snapped up by Apple, where I figure he's building the iPhone 6, but it delayed the formation and growth of that company by over a year. We had to bring in new founders without immigration problems.
Who knows what could have happened in that year? And I'm sure our former student is contributing economic value working for Apple, but nothing like what he could be doing in a startup.
John Doerr, one of the most successful venture capitalists in history, said "I would staple a green card to the diploma of anyone that graduates with an advanced degree in the physical sciences or engineering in the United States." He's absolutely right.
These people are going to create value. Create jobs. Pay taxes, for crying out loud! Why would we NOT want them to stay here? Get married, raise families, buy a house, buy 2.3 cars… the multipliers are endless.
Now, what I always hear when I speak on this subject is that "immigrants take jobs from Americans." The Mayor already addressed this. That's just not true for entrepreneurial immigrants! They don't TAKE jobs, they MAKE jobs!
First for themselves, then for co-founders, and eventually—if successful—for hundreds, or, thousands of employees.
This is NOT a zero-sum game. If these immigrants aren't allowed to create jobs, those jobs WILL NOT go to native-born Americans… those jobs simply won't exist.
And these aren't jobs flipping burgers or picking crops. These are high-quality high-paying jobs that your kids would like to have someday. Example: There are two million "Internet jobs" in the United States. None of those jobs existed twenty years ago. Most of the COMPANIES didn't exist twenty years ago. Now, subtract all of those Silicon Valley companies who were founded by immigrants. It's a pretty ugly picture.
And although Silicon Valley gets all the press, it's deeper than that. As a bit of history, not just Google and Intel, but Pfizer, DuPont, U.S. Steel, and Procter & Gamble were once startups founded by immigrants.
Earlier, Alejandro repeated the cliché that "we are a nation of immigrants." It's a cliché, but it's also true. We still have the world's best graduate schools; other countries are catching up, but we started from far ahead.
Moreover… We have a history of risk-taking, of capital fluidity, and of tolerance of failure that has made the U.S. the best place in the world to start a company. Other countries are catching up here, too, but our culture and history give us an edge. Even with our current financial troubles, I believe that we're still the entrepreneurial Mecca for the world.
But we have to make sure that we attract the best, brightest, and most innovative entrepreneurs, whether they were born here or not.
In honor of the Mayor, i made up a baseball analogy, but he beat me to it. Building fences to keep out brainpower is like saying that "My baseball team has enough talent, let the other teams get some good players, too." That's not how the Yankees play the game, and it's not how the United States should play the game.
With that, I'll pass the microphone and look forward to the rest of the panel. Thank you.