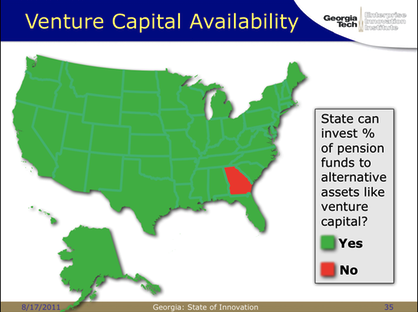 It's been almost four years since I've written here about investing a portion of Georgia's pension funds into "alternative assets" (which includes venture capital). In those four years, nothing has changed, but everything may be about to change. We have a new governor who has signaled his willingness to consider making a small allocation from one or more of the state pension funds.
There are few things you need to understand. One is the effect on pensioners.
The otherwise-excellent article "Venture capital a top priority" in last Sunday's AJC (sorry, no web version) perpetuates a common mistake. People immediately focus on the "risky" nature of venture capital and what effect it might have on pension payments. For a classic example, see Russell Grantham's entire article from the AJC three weeks ago.
State pension plans are an obligation of the state government. State employees pay in with payroll contributions during their working career, and are guaranteed a certain set of pension benefits upon their retirement. Those benefits are independent of how the contributions are invested. [Note that all of this discussion applies to "guaranteed benefit" plans such as the Employees Retirement System (ERS) and Teachers Retirement System (TRS); some state employees, such as me, have a different pension plan that looks much more like a "guaranteed contribution" 401(k).]
Whether the state chooses to invest those contributions in Treasury bills, or venture capital, or Florida swampland, or a portfolio of Van Goghs, the retirees are guaranteed the same pension benefits. The decision to invest or not invest in a particular asset class is a fiduciary decision to be made by the fund managers — and, in 49 out of 50 states, they've chosen to invest a portion into venture capital. However, a decision to invest, or the success or failure of those investments, will have no impact on the individual pensioners. Those pensions are guaranteed by the full faith and credit of the state of Georgia, and you can, literally, take that to the bank.
Given that a properly-managed alternative asset allocation can significantly boost the long-term rate of return for a portfolio, it's a fiduciarily-reasonable thing for the managers to consider, if the state law changes.
Now, what it doesn't do is guarantee that any of those dollars will be invested in Georgia startups and have an economic development impact on the state. That's a different kettle of fish, which I'll address in a future post.
---
And this is probably as good a place as any to remind readers of my standard Professional Disclaimer.