This post is from 2009. For a retrospective on wearing this button for five years, check out my follow-up post here.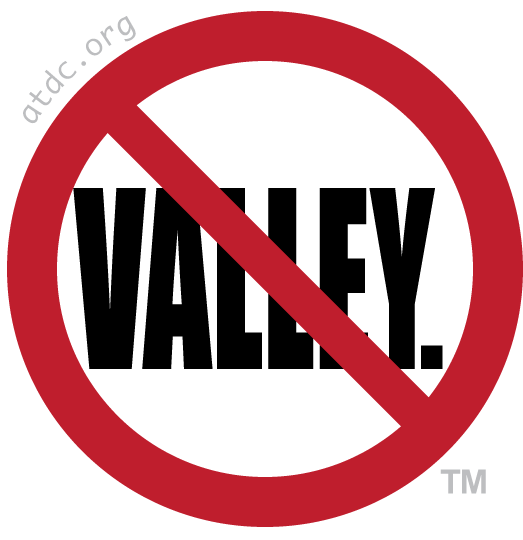 (Click for full-size image.)
Those of you at the Atlanta CEO Exchange this evening may have seen the lapel button I was wearing. It generated a lot of attention.
If you've been paying attention to the buzz around Atlanta, it's been almost a year since Jeff Haynie moved west, and left us his farewell message as to "What's wrong with the Atlanta startup ecosystem and how to fix it."
If you haven't been paying attention to the conversation, here's a quick guide to catching up:
Okay… ever since Hayes Microcomputer went bust, there's been great wailing and gnashing of teeth about how Atlanta isn't Silicon Valley. In my previous role as a venture capitalist, as my not-quite previous role running VentureLab, and in my brand-new role as the chief of economic development for Georgia Tech, one of the questions I'm most frequently asked is "How can we make Atlanta the next Silicon Valley?"
Not to put too fine a point on it — but that's a foolish question. Silicon Valley is a unique aberration… a confluence of people, ideas, cash, and culture that will probably never be duplicated. And it's futile to try.
But, for most entrepreneurs and most companies, it's also irrelevant. Build a fabulous product that delights customers while solving a real problem, and geography is irrelevant. To quote Fred Wilson from his post above, "You can build a great startup in any of the dozen to two dozen startup hotbeds around the world. Pick a place you want to live and work and possibly raise a family. And then get busy."
Atlantans, repeat after me:
We're not Silicon Valley.
We don't want to be Silicon Valley.
We don't need to be Silicon Valley.
If you agree, stop me and ask for a "Not The Valley" lapel button. If anybody wants them, I'll print stickers, too. And, if you disagree… well, I grew up in Atlanta, and Delta has been my hometown airline for my entire life. For me, they'll never have a slogan as memorable as this one from the 1960s and 1970s:

Delta is ready when you are.