I've been travelling a bit lately, visiting innovation communities in Austin, Portland, and Saõ Paulo. I've also had a chance to compare notes with venture capitalists and angel investors from all over the U.S. at the Venture Atlanta conference held last week, and with city planners in my role as a team leader for the Atlanta co(lab) conference in September.
I'm happy to report that the grass is not always greener on the other side of the fence.
We have a unique asset at Georgia Tech — one that other communities would love to have. And that's Tech Square. We celebrated the tenth anniversary of Tech Square on October 17. Let's look back:
"The 13 acres that now support the 1.1 million square feet of Tech Square facilities was a desolate place… a small music venue/bar called 'Cafe Erehwon' was located just across the 5th Street bridge. Interestingly enough, the name 'Erehwon' was chosen by owner/musician Cy Timmons as it was 'nowhere' spelled backward."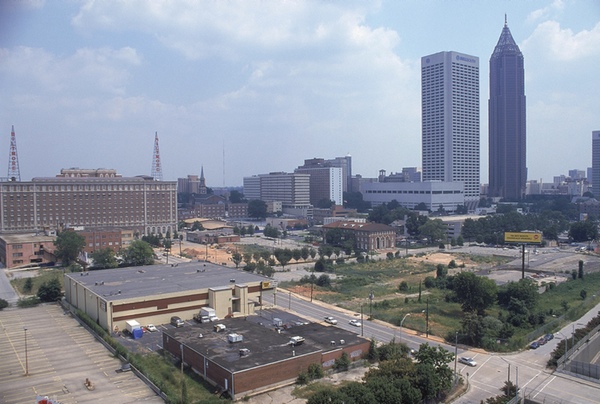 "Immediately before Tech Square was built, there were a bunch of parking lots where drug deals and prostitution were rampant. It was not really safe in the evening." [1]
And as then-President Wayne Clough said in a video address at the Technology Square 10th Anniversary Symposium,
"In 2000, nobody wanted to claim Georgia Tech. The boundaries of Central Atlanta Progress ended at North Avenue. And the western boundary of the Midtown Alliance ended at the Downtown Connector." [2]
The leap across the Downtown Connector was truly a gamble for the Georgia Tech administration (led at that time by President Clough). Georgia Tech had been landlocked on the west side of the highway for decades, and growth in any direction would be challenging and expensive. By choosing to move east, we didn't just gain new classrooms and office space. We created an entire new relationship between Georgia Tech, the state government, and the business community. And in the process, we created an "innovation ecosystem" that's the envy of universities across the country.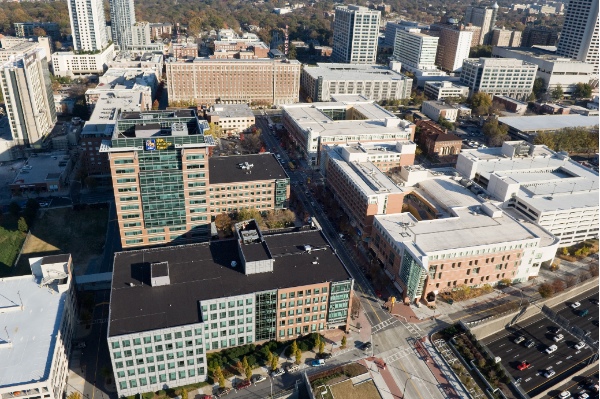 What's the secret?
I'm typing this at my desk in Centergy. Looking out my window and walking through my mental map of Tech Square, I'm within two blocks of (in mostly-alphabetical order):
AT&T Foundry
Augmented Environments Lab
Barnes & Noble campus bookstore
Broadband Institute
Brook Byers Institute for Sustainable Systems
Center for Education Integrating Science, Mathematics, and Computing (CEISMC)
Center for Quality Growth and Regional Development
Digital Media Center
Experimental Game Lab
Ferris-Goldsmith Trading Floor
Flashpoint
GE Energy innovation center
Georgia Department of Economic Development
Georgia Electric Membership Corp.
Georgia Electronic Design Center (GEDC)
Georgia Tech Foundation
Georgia Tech Research Institute (GTRI)
Global Learning Center
Graphics, Visualization and Usability (GVU) Center
Health Systems Institute
Hotel and Conference Center
Huang Executive Education Center
Hypepotamus
Information and Communications Laboratory
Institute for People and Technology
Institute of Leadership and Entrepreneurship
Institute of Electronics and Nanotechnology
Interactive Media Technology Center (IMTC)
Interoperability & Integration Innovation Lab
Municipal Electric Authority of Georgia
NCR innovation center
Office of Legal Affairs and Risk Management
Panasonic innovation center
Parking and Transportation
Professional Education
QuickStart: Technical College System of Georgia
Research Network Operations Center (GT-RNOC)
Scheller College of Business
School of Electrical and Computer Engineering
School of Interactive Computing
School of Literature, Media, and Communications
Select Georgia, Georgia Power's economic development center
Technology Association of Georgia (TAG)
The Biltmore – offices and conference spaces
Thyssen-Krupp innovation center
TSRB conference center
UGA Department of Economic Development
US Export Assistance Center
…and a mix of investors, attorneys, and consulting firms
And, of course, the Enterprise Innovation Institute (that's us!):
Advanced Technology Development Center (ATDC), including 40+ startup companies
Contracting Education Academy
Energy Management and Technology Program
Georgia Manufacturing Extension Partnership (GaMEP)
Georgia Tech Procurement Assistance Center (GTPAC)
Health IT Extension Program
Hodges Connection Room
Innovation Strategy and Impact Group
Minority Business Development Agency (MBDA) Business Center
NSF Innovation Corps node
Southeastern Trade Adjustment Assistance Center (SETAAC)
Startup Ecosystems
VentureLab
Plus:
Every fiber optic route in the Southeast
Nearby condos, apartments, and — soon — student housing
Ample parking
Bike racks
Three trolley stops
Two MARTA stations
Commuter express bus stop
Eleven restaurants
Three bars
Two banks
LA Fitness
The world's smallest Wal-Mart
Random retail spaces
…and the indispensable Starbucks.
And, soon, the 600,000 square foot ARCA (Advanced Research, Computation, and Analytics) building at 777 Spring Street: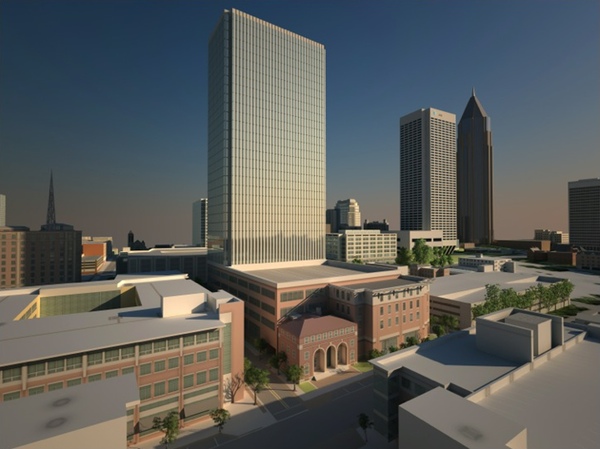 Great jumping Jehoshaphat.
Since we're immersed in all this, it's easy to forget just how unique it is… a confluence of public and private entities, major corporations and not-for-profits, students and entrepreneurs, and more. As a historical aside: Georgia Tech was founded by a partnership between the government of Georgia, Atlanta's business community, and academics. We had the right mix in 1885… but then, like so many universities, we walled ourselves off on campus and ignored our former partners! Now, with Tech Square, we've brought those three communities back together, with incredible results.
The magic is in the mix. As I walked to lunch at the Barrelhouse today, I had three brief conversations with people in the community whom I probably wouldn't even have thought about today. Multiply that by thousands of people, with multiple interactions every day. The laundry list of organizations up above is impressive, but people do business with people. Person by person, link by link, our physical proximity knits all of us into a community that's far stronger than any individual organization.
Many of you have seen me present Jan Youtie's work on "Building an Innovation Hub." I believe that building these linkages between disparate individuals, organizations, and communities will be a core responsibility of research universities in the 21st century. Many universities are exploring ways to build virtual innovation hubs, with varying degrees of success. With Tech Square, Georgia Tech invested in a physical bricks-and-mortar manifestation of an innovation hub. And it's working.
Tech Square offers the resources that startups and established companies need, including Georgia Tech students who will be our future innovators and leaders. We will continue to work with the state, the city of Atlanta, and others to attract business and industry to Georgia, to retain the companies that are already here, and to create the innovative new companies that will power the 21st century.
This is an incredibly cool place to work. Happy Birthday, Tech Square! I can't wait to see what you look like when you turn twenty!
PS: I've launched a Twitter feed that you should follow at @techsquaregt. Not quite sure what I'm going to do with it, so send me ideas!